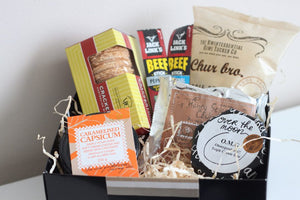 Our Nibbles Deluxe is very popular - especially with men!
This gift box includes:
(2) Jacklinks Beef Sticks
 Camembert Cheese from Over the Moon. PLEASE NOTE CHEESE IS NOT SUITABLE FOR RURAL OR SOUTH ISLAND DELIVERY - in this instance we will substitute for an item that fits the theme of the box
Please note some of the items in the product image differ - please check the above description before ordering.
Box design may vary according to availability.
Delivery Information
Delivery Locations
We deliver our range of gifts, hampers & baskets across the whole of New Zealand. Click on a link below to see what we deliver to your area…

Please note: this is an evolving addition to our website, so do not panic if you do not see your destination below! We can assure you, that we deliver to every single location that is in our beautiful country.