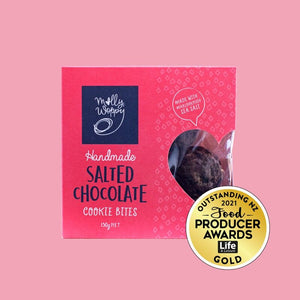 Molly Woppy is a family owned artisan company, passionate about baking.
They love using classic recipes with fresh modern flavours, to create cookies to crave and treats to treasure - for gourmet food lovers everywhere. Enjoy!
4 delicious flavours to choose from 
Milk Choccy Chunk Cookie Bites (Gluten Free) 130g unit.
Lemon Moment Bites 165g unit.
Salted Chocolate Cookie Bites 130g unit.
Passion Fruit Shortbread Bites 125g unit.
Delivery Information
Delivery Locations
We deliver our range of gifts, hampers & baskets across the whole of New Zealand. Click on a link below to see what we deliver to your area…

Please note: this is an evolving addition to our website, so do not panic if you do not see your destination below! We can assure you, that we deliver to every single location that is in our beautiful country.