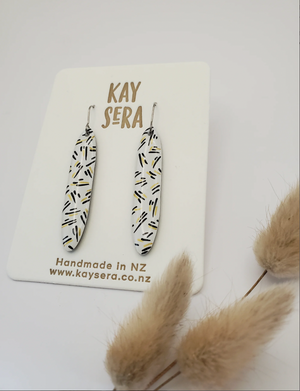 Fun and trendy earrings by Kay Sera Design - handmade in Palmerston North, NZ.

These beauties are made from a super light medium and hang light as PAPER.

6 Stunning designs to choose from: 

Entangled - Gold Stud

Animal Print

Wild Stripes 

Sprinkles 

Lena Speckled 

Lena Floral Vines 
Delivery Information
Delivery Locations
We deliver our range of gifts, hampers & baskets across the whole of New Zealand. Click on a link below to see what we deliver to your area…

Please note: this is an evolving addition to our website, so do not panic if you do not see your destination below! We can assure you, that we deliver to every single location that is in our beautiful country.