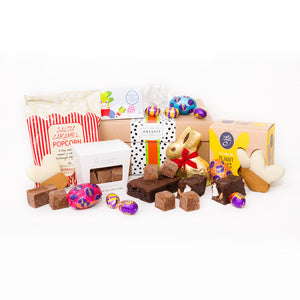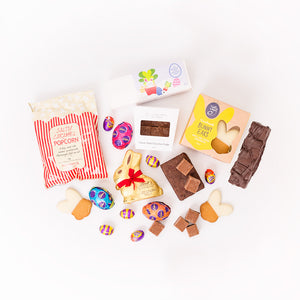 Easter Gift Boxes For NZ Delivery
PREORDER NOW - Available to be sent from 29th March 2023

If you are looking to induce a chocolate coma, then this Easter Gift Box is the perfect solution!
Each box contains: 
Molly Woppy Pantry Pack Choc Dipped Gingerbread Bunny Ears
Easter Rocky Road Log from The Seriously Good Chocolate Company
Salty Caramel Popcorn 50gm 
Magnolia Kitchen Fudge - (DISCONTINUED) - we will replace with an 85gm jar of The Confectionist Toffee.
Gift Card with your personalised message
Our 'Easter Chocolate Overload Gift Box' comes in our medium eco box, dressed with belli band, and easter themed ribbons, finished with a handcrafted bow.
Please read our Easter Delivery Deadlines information to ensure your gift reaches it's destination in time.
*please note box design may vary according to availability
Delivery Information
Delivery Locations
We deliver our range of gifts, hampers & baskets across the whole of New Zealand. Click on a link below to see what we deliver to your area…

Please note: this is an evolving addition to our website, so do not panic if you do not see your destination below! We can assure you, that we deliver to every single location that is in our beautiful country.