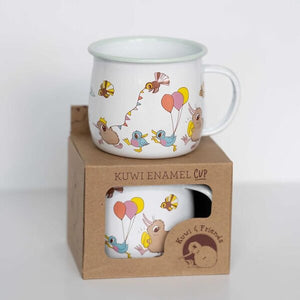 A practical but oh so CUTE gift for young children from NZ brand illustrated publishing. 

Child friendly, easy to hold rounded shape, perfect for little hands.
Eco friendly 380ml mug. 

Classic kuwi enamel mug, with the cutest Kuwi & Friends textured motif.
Delivery Information
Delivery Locations
We deliver our range of gifts, hampers & baskets across the whole of New Zealand. Click on a link below to see what we deliver to your area…

Please note: this is an evolving addition to our website, so do not panic if you do not see your destination below! We can assure you, that we deliver to every single location that is in our beautiful country.