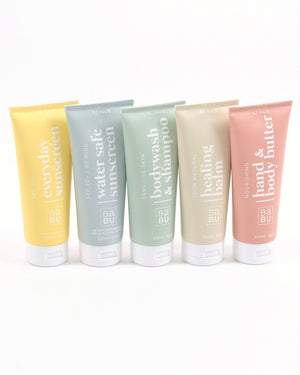 The Babu skincare range is proudly made in NZ from lush natural and organic ingredients. Safe for baby and the whole family, this hand and body butter is made from 100% natural ingredients.
Each tube is a generous 200ml.
Hand + Body Butter: A nourishing + moisturising hand and body (cream) Natural ingredients of almond oil, cocoa and shea butter and the signature Babu papaya fragrance.
Body Wash + Shampoo: Lather up your little one with this no tear shampoo + body wash, made from natural and organic ingredients. The papaya fragrance will leave baby smelling divine, while coconut, jojoba and evening primrose oils moisturise and soothe. Fantastic for eczema and sensitive skins.
Healing Balm: Babu healing balm uses 100% natural ingredients of macadamia nut oil, organic Shea butter, zinc, beeswax and Coconut oil to help heal and protect against nappy rash. It also works wonders on cradle cap, eczema, dry irritated skin, sunburn, chapped lips, cracked heels, and more.
Delivery Information
Delivery Locations
We deliver our range of gifts, hampers & baskets across the whole of New Zealand. Click on a link below to see what we deliver to your area…

Please note: this is an evolving addition to our website, so do not panic if you do not see your destination below! We can assure you, that we deliver to every single location that is in our beautiful country.