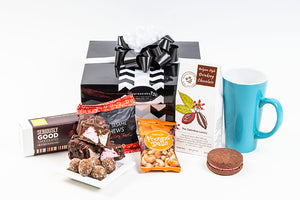 One of the most popular Hampers in our Range. All you need to do is put your feet up and enjoy the treats!
Our Time for a Cuppa includes:
Molly Woppy Individual Cookie

Rocky Road Chocolate Log from The Seriously Good Chocolate Company
Gift Card with your personalised message

Choose between a male or female design when making your selection.
We now offer a flat fee shipping charge of only $10 throughout the whole of New Zealand! This includes delivery to rural destinations. Please contact us for a quote to send overseas.
Delivery Information
Delivery Locations
We deliver our range of gifts, hampers & baskets across the whole of New Zealand. Click on a link below to see what we deliver to your area…

Please note: this is an evolving addition to our website, so do not panic if you do not see your destination below! We can assure you, that we deliver to every single location that is in our beautiful country.