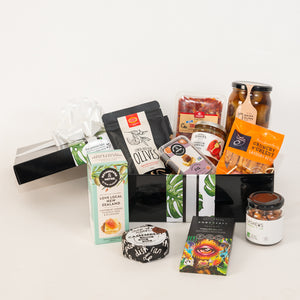 We are proud to offer a number of gourmet gift boxes that contain some of the highest quality gourmet product that are on offer.
'The Antipasto' Gift Box contains: 
Lemon and herb olives from Telegraph Hill - 150gm
Molly Woppy cheese sticks - 30gm
Barkers Apricot + Chutney Relish
Nana Dunn Pickled Onions - 700gm
Semi Dried Tomato Strips 125gm
Rutherford + Meyer Artisan Oat Crackers - 120gm
Over the Moon Camembert Cheese OPTIONAL - NOT SUITABLE FOR SOUTH ISLAND OR RURAL DELIVERY. Please choose the 'no cheese' option from the drop down menu. 
Wellington Chocolate Factory bar - 75gm
Rutherford + Meyer Fruit Paste
Asian Republic Lemongrass + Lime Cashews - Jar
Gift Card with your personalised message 
NB: Due to the busy nature of the Christmas Season we may run low on certain items.  Our substitution policy states that we will replace with a similar item of equal or higher value. 
Please email our team with your bulk order requirements.
Delivery Information
Delivery Locations
We deliver our range of gifts, hampers & baskets across the whole of New Zealand. Click on a link below to see what we deliver to your area…

Please note: this is an evolving addition to our website, so do not panic if you do not see your destination below! We can assure you, that we deliver to every single location that is in our beautiful country.