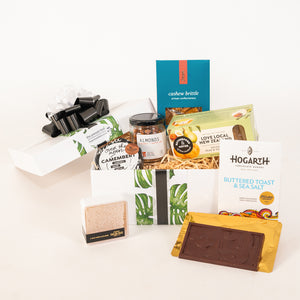 We have really tapped into some of NZ's finest gourmet food producers with our NEW Artisan Gourmet gift box.
It contains: 
Rutherford + Meyer Oat Crackers
Finom Cashew Brittle (Discontinued) - We will replace with 'The Confectionist' Dark Chocolate Almond Toffee 85gm
Asian Republic Coconut + Kaffir Lime Almonds
Taylor Pass Honey (Out of Season) - We will replace with Rutherford + Meyer Fruit Paste.
Camembert cheese from Over the Moon. OPTIONAL - NOT SUITABLE FOR SOUTH ISLAND OR RURAL DELIVERY. Please choose the no cheese' option from the drop down menu. 


THIS BOX ALSO NOW INCLUDES - Te Mata Figs - salame di Vinci almond roll - AMAZING with cheese! *not shown in main image 
Gift Card with your personalised message 
*Box design may vary according to availability
Please email our team with your bulk order requirements.

Delivery Information
Delivery Locations
We deliver our range of gifts, hampers & baskets across the whole of New Zealand. Click on a link below to see what we deliver to your area…

Please note: this is an evolving addition to our website, so do not panic if you do not see your destination below! We can assure you, that we deliver to every single location that is in our beautiful country.