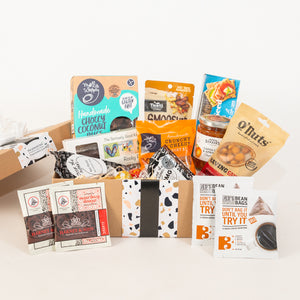 This great Gift Box was designed with sharing in mind. So many delicious treats, a little bit of something for the whole team! Purchase as a Corporate Gift, thank you for your staff, or send to a family event!
Our Morning Tea Shout gift box contains:
(2) Harney & Son's Tea Sachets
Molly Woppy Cheese Sticks Snack Pack - 30gm
 Over the Moon Dairy Company Cheeses x2 - CHEESE IS NOT SUITABLE FOR SOUTH ISLAND OR RURAL DELIVERY. IN THIS INSTANCE WE WILL SUBSTITUTE FOR OTHER ITEMS THAT FIT THE THEME OF THE BOX.
(3) Lindt Chocolate Balls
Tasti Bliss Balls - (6) balls per packet
Rocky Road Log from The Seriously Good Chocolate Company
Molly Woppy Artisan Cookies
Gift Card with your personalised message
We have sourced the products for this amazing Gift Hamper from some of the top suppliers from around New Zealand. Believe us when we say they are tried and tested! 
*Colour of gift box and design may vary according to availability.
Please email our team with your bulk order requirements.
Delivery Information
Delivery Locations
We deliver our range of gifts, hampers & baskets across the whole of New Zealand. Click on a link below to see what we deliver to your area…

Please note: this is an evolving addition to our website, so do not panic if you do not see your destination below! We can assure you, that we deliver to every single location that is in our beautiful country.